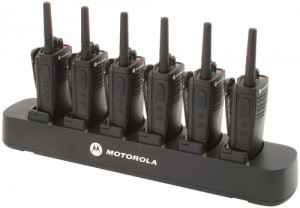 Bring increased productivity to your enterprise by expanding the functionality and 'wearability' of your two-way radios with business radio accessories. Business walkie-talkies keep your employees comfortably connected across the sales floor and into the warehouse, throughout your hotel or restaurant and all over your school campus. Your customer service gains an immediacy that can't be beat -- with no cell phone minute plans!
Naturally, every worker has their own preferences as to how they can best use and wear their portable 2-way radios on the job. The right business radio accessories ensure that critical messages are received and employees work in their comfort zone for the duration of their shift. Offering your staff their choice of headsets, mics, earpieces and holsters shows your employees you care how they experience their workday. Management studies consistently find that employees who feel they are treated fairly and with respect work smarter and harder.
To the public, two-way radio accessories for business add an air of professionalism to your retail store, hotel, restaurant or movie theater. An employee wearing a headset or using a shoulder mic shows the customer their needs are already met both by the person standing in front of them and the behind-the-scenes team implied by the business radio accessories they wear. Whether it's the sense of safety in seeing a security guard checking in on his RDX radio shoulder mic or the smooth savvy of the hotel concierge calling for a bellhop on a CLS walkie-talkie headset; customers remember you bring your A-game.
For independent contractors competing for jobs in a tough economy, a reputation for a well-run construction crew, plumbing project or catering event is essential to building your business. High praise, word-of-mouth advertising is the best you can get in any industry. You can ensure that your rep stays squeaky clean by keeping your workers informed and connected using business radios with two-way radio accessories that increase productivity, efficiency and safety.
Certainly one of the surest ways to stay safe on any job site is to keep (both hands) focused on the task at hand. Walkie-talkie accessories help your employees make the most of your VOX capable business radios. Whether you're speaking into a VOX enabled RDX unit via temple transducer mic under your hardhat or you're calling for assistance with a patient in your nursing home using a simple earpiece mic, two-way radio accessories can be a lifesaver! VOX capable business walkie-talkies push performance even further to deliver the high value returns you expect on your business radio investment.
Techwholesale.com offers a diverse selection of business walkie-talkie accessories that integrate seamlessly into the workaday world of your enterprise.
What is it? What will it do for me?
Earpiece mics: The combination earpiece with in-line microphone is probably the most popular way to use and wear two-way radios at work. Earpiece mics bring the business end of the walkie-talkie (its speaker) right where it needs to be: your ear. Also, the position of the inline microphone attached to the cord keeps the mic closer to your mouth without having to hold the radio. The earpiece mic combo embodies the perfect solution for loud work environments, as filtering out background noise becomes a lot easier when those distractions are truly in the background. So useful is the earpiece mic construction, that it has spawned a couple of subspecies. Depending on the model you choose, the earpiece coupled with its microphone works with VOX capable radios or the Push-to-talk (PTT) function.
Earpiece and in-line microphone: The earpiece with in-line microphone features a comfortable plastic structure that slips over the top of the ear to position the speaker right at the opening of the ear canal. Attached is a cord with a small microphone that hangs the mic in the right place to pick up speech. Everything hangs to one side, out of the way and is easily clipped to your clothing to keep the cord from flopping around. If you're old enough to remember the pre-bluetooth cell phone earpiece mics of yesteryear, the in-line earpiece mic for walkie-talkies will feel familiar.
Discreet earpiece: What's not to love about the cool, curly, translucent cord hidden behind your ear that evokes the look of the Secret Service or a News Anchor? Give your security team or hotel concierge the look of authority in an instant with a discreet earpiece with microphone. The translucent earpiece fits snugly and comfortably into the ear canal while a low profile microphone hangs right in range of your voice. The discreet earpiece mic creates a smooth, elegant look for your restaurant, retail or church communication needs. Form meets function for the win! Discreet earpiece mic units are available for VOX or PTT functionality.
Earpiece with boom mic: For those who prefer to place their microphone closer to their mouth, you'll want to check out the earpiece with boom mic. The earpiece keeps the speaker at your ear via a small piece of plastic that slips over the top curve. A small boom microphone angles out from the middle of the speaker that sits at close comfortable range of your mouth next to your cheek. The earpiece boom mic's flexible construction allows you to position the microphone exactly to your liking. It's perfect for loud and hushed environments alike.
Earbud with mics: Slim, no nonsense handheld 2-way radio communication on the go. Pop the earbud in your ear for ease of listening to radio transmissions, but still keep an ear out for what's happening around you. Clip the mic to your shirt, apron or collar and messages transmit loud and clear! The earbud and microphone construction is great for young employees of your restaurant, cafe, retail store or movie theater who pretty much live in their ipod earphones. The earbud mic fits right into what they're used to. Earbud mics also make a nice discreet look for receptionists and restaurant workers who don't want a lot of gear to get in their way.
Temple transducer: Wear a hardhat or safety helmet on your construction site, at the loading dock or in the warehouse? You don't have to sacrifice safety to get the benefits of connecting to co-workers via business walkie-talkies. Temple transducers allow employees to listen to 2-way radio talk without compromising their ability to hear what's going on in the work environment nearby. Keeping aware of dangerous machinery in use or hearing that forklift backing up are the keys to avoiding workplace injuries in an industrial setting. Temple transducers don't block ambient noise because they don't cover the ear. Instead, temple transducers convert audio to vibrations that they transmit through bone into the inner ear allowing it to be processed by the brain as language. How cool is that!
Shoulder mics: The preferred microphone and speaker system of many a police officer, the shoulder mic stays right where you need it when you need it. There's nothing to hold. The shoulder mic is clipped right at your shoulder, so when you want to talk, simply turn your head and push the button. When you need to listen, the shoulder mic's speaker is positioned right next to your ear. It's a great business walkie-talkie accessory for employees who don't want to wear a headset or dislike things actually in their ears. Employees can easily and cleanly share shoulder mics, as they would a telephone's handset.
Headset mics: Headsets with microphones have been a part of business communication since the earliest days of Ma Bell and the telephone operator. Now that business happens on the go, we've got business headsets for two-way radio communication! The headset mic is perfect for creative types who want to be able to talk with their hands as they're immersed in their work such as directors in theater productions, theater and sound techs: folks who want the secure feeling of headset placement coupled by the flexibility of a boom microphone. With the speaker right at your ear and the boom mic easy to position at your mouth, on-the-move communication becomes comfortable and easy.
Clips and holsters: There's nothing like having your work radio at your side, so your shift runs smoothly and easily. Belt clips and carry holsters should be at the top of your must-have business radio accessories list. Motorola makes a belt clip especially designed for each of their business walkie-talkies. Spring loaded or swivel, Motorola makes it easy to keep your radio at the ready as you move through your workday.
For your uniquely designed Motorola CLP business walkie-talkies, we offer Motorola's new magnetic case that lets you wear your CLP radios in sync with the way you work. You'll present a confident, professional image with a CLP radio attached to your business suit or uniform via magnetic carrying case.
Carrying cases: Motorola business radios are made to take a bounce or two, but it's better to be safer than sorry by keeping your business walkie-talkie in a carrying case. In addition to helping ward off the ill effects of a busy or dirty work environment, a nice leather carry case adds to the professional polish of your jobsite radio.
Radio-to-radio cloning cables: Radio-to-radio cloning cables are a big time saver for every business that relies on two-way radios for employee communication. Cloning cables allow you to reproduce radio settings and user menu programming from walkie-talkie to walkie-talkie at the mere touch of a button. Your whole fleet of business radios will all operate in harmony without having to program each one individually.
Programming cables: One of the most enterprise savvy features of Motorola's business radios is the ease of configuring your walkie-talkies to meet your unique needs using your computer. Motorola offers their Custom Programming Software (CPS) for free download. Plug-in your programming cable and you're ready to set up your user menus, radio frequencies and customize your walkie-talkie's features to the way you do business.
Stubby antennas: For business walkie-talkies such as the RDU4100, RDU4160, RDV5100 and the older AX radios; the stubby antenna allows more flexibility in wearing your walkie-talkie at work. Stubby antennas give you the signal push you need with the advantages a short walkie-talkie antenna.
Multi-unit chargers: Rally the troops, at once! All at once! Multi-unit chargers organize while they revitalize. You'll never have to wander around worrying where those walkie-talkies went after the last shift and you won't have to wonder, if they're charged and ready for the next one. They'll be sitting fully charged in your multi-unit charger. You also free up a lot of wall-outlets when you put all of your business' radios in one multi-unit charger that can handle several radios. Cloning settings is breeze too. Need we say more?
Rapid chargers: Businesses that require flexibility and quick turnaround are wise to invest in a two-way radio rapid charger kit. When employees are used to the instant communication walkie-talkies provide the team, no one will want to work without it when business demands extra innings. Rapid chargers allow your enterprise the agility to scale up operations for that extra shipment, off-hours event, surprise project or the holidays.
Wall adapter chargers: Every business radio ships with one of these, but when you leave yours at the last jobs site... You can order another one from us at Techwholesale.com! When you order on a business day, your new wall adapter charger goes out that same day. Order in the off-hours and your new wall adapter charger ships the next business day.
Drop-in charging trays: Drop your business walkie-talkies in, plug-in the wall adapter and a few hours later your enterprise is abuzz with communication and customer service. Drop-in charging trays ship with every new business radio. Should you lose yours, a new drop-in charging tray will arrive at your door in a flash when you order from Techwholesale.com
High capacity batteries: When opportunity knocks be sure your business is ready to answer the call with the communication capability you get from a high capacity battery. It never hurts to have an extra battery around. Why not make your standard battery the spare and keep your high capacity battery in the game on a daily basis. Overtime is not a problem when you've got the extra juice of a high capacity battery.
Standard batteries: Standard batteries arrive in the box with every handheld 2-way business radio we ship. Each standard battery provides hours of talk-time to keep your enterprise flexible on the go. When you need to replace your standard walkie-talkie battery, be sure to get it quick with the rapid customer service we guarantee here at Techwholesale.com. Our secret? Why our warehouses work with the efficiency of two-way radio communication, of course!
AAA battery adapters: Don't you just love the flexibility of being able to pop some AAA batteries into your CLS business walkie-talkies when you need a bit more breath in your radios? Grab a pack at the convenient store, snap in your AAA battery adapter and your CLS radios are ready for more. We recommend the default lithium-ion chemistry, but in a pinch when you need to roll that extra mile in between regular battery chargings, your AAA battery adapter makes it happen.
Battery doors: Want to add a bit of extra oomph to your Motorola CLP two-way radio? Your Motorola CLP high capacity walkie-talkie batteries keep you and your work team connected longer. Seal the deal with a Motorola CLP battery door. Should you just need to replace your standard battery default door, no worries. Techwholesale.com can send your replacement standard battery default door that business day, or if you order in the off-hours, we'll send it the next business day. We committed to fast and accurate customer service for all of our valued clients.