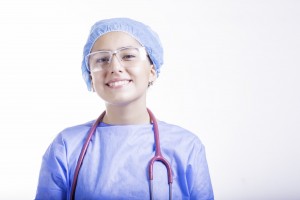 Healthcare facilities should always focus their attention on increased efficiency. This is because the real value in medical services is reflected by better productivity, flawless operation, and of course, a safe and secure environment. Two-way radio communication is the ideal solution to help in smooth operations of health services, as it has evolved to be incorporated in hospitals.
The top 6 reasons why hospitals should use two-way radios
For healthcare facilities, having an effective communication system in place is critical. It allows workers to communicate in quickly when it matters most. This can be achieved by implementing two-way radios. Here are 6 reasons why two-way radio communication should be considered essential in healthcare operations:
Improved real-time communication Real-time communication among staff members can improve service within medical facilities. It provides a reliable experience for patients and visitors where hospital workers can respond swiftly.
Increased productivity – mobile efficiency Medical staff, security, kitchen staff, among others, can utilize two-way radios without having to drop whatever they are doing. Radios offer staff a mobile, efficient option for responding to other members. No more wasting time searching an address book or spending time reading text messages. Workers have a direct, push-to-talk option for answering calls.
Quick response to emergencies With heavy-duty two-way radios, emergency incidents will be responded to in a flash. If workers are able to utilize reliable devices, they will always have the right information, limiting the possibilities of worst-case scenarios.
Enhanced safety and security Heavy duty two-way radios are critical for a safe and secure surrounding. Patients, staff, and visitors need to feel safe within and around medical facilities. Heavy-duty radios provide high-performance communication, which is reliable when dealing with security matters.
Facility maintenance and disaster preparedness To ensure that everything runs smoothly, it is important to have the facility maintained, with proper preparation in case disaster strikes. Collaboration is necessary during the maintenance process, where each party must respond accordingly. What better way to do this than to integrate two-way communication devices?
Coordination of social activities and events For organizing social activities or events to connect with the rest of the community, two-way radios are a great option. When cellular network or internet coverage is affected, your two-way radios won't be. Contrary to recreational walkie-talkies, which often lack durability and range, heavy-duty radios provide an advanced long-lasting communication option for event organizers.
Verdict
Whether rain or shine, Motorola heavy-duty radios, such as the long-range Motorola RDU4100 and Motorola RDV5100, are resistant to extreme conditions and are incredibly reliable.