Posted by Joe Wood on Sep 28th 2010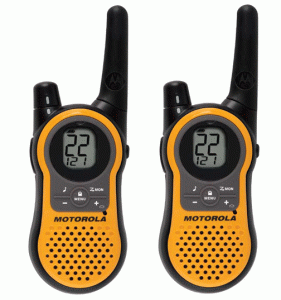 Did you know that motorcyclists can also use walkie talkies? Seriously! Just because you ride a motorcycle doesn't meant that you have to remain completely locked out from the rest of your party. You can keep in touch with other riders, get alerts about severe weather, and even get the benefit of a flashlight when you choose to take along a set of Motorola Talkabout two way walkie talkies on your next cross country trip.
Whether you're planning on riding across the country or just going for a spin around your town, the Motorola Talkabout Radios from TechWholesale.com, these radios offer a range up to 7 miles, complete durability for use on the road, and of course, user-friendly designs that make it easy to keep in touch with other riders you're traveling with. Each radio also features a built-in flashlight in each radio, 11 weather channels (7 are NOAA) with alert features, and a long-lasting battery, so you know you're getting the best radio for your cross country or around the block trips.
Make sure you ride with a Motorola in hand. TechWholesale.com has Motorola Talkabout radios that are perfect for keeping close when you're on a motorcycle ride.