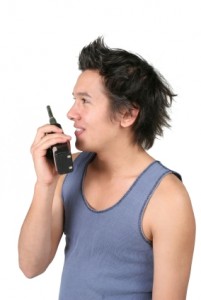 Using a walkie talkie is an effective method of quick and portable communication.
Walkie talkies are used for a wide variety of reasons! While walkie talkies are an efficient means of communication, knowing the proper language is crucial to good, accurate communication. They have their own lingo which can make communicating with walkie talkies a fun and exciting new activity!
Below are a few general terms that can have you using your walkie talkie like a seasoned professional. Do you copy?
Breaker 1-9: I want to begin conversation.
10-4: Okay.
Big 10-4: Yes.
Roger That: I understand.
Over and Out: I'm finished talking.
Negatory: No (Negative can also be said).
Affirmative: Yes.
Do you copy? Can you hear me?
Copy That: I hear you.
What's your handle?: What's your name (a nickname is generally used).
Got your ears on?: Are you on air and listening?
What's your 20?: Where are you?
Standby: Used when someone tries to communicate but you are too busy to reply, simply say standby.
Go for____: I'm here and ready for conversation.
Walkie talkie lingo is simple and easy to learn. Using these common phrases will have you communicating properly and efficiently when using a walkie talkie to communicate. Over and out.