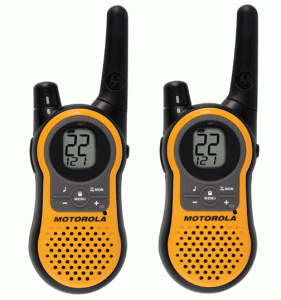 Everyone knows that camping can be great fun for families – but it's also important to stay close and in constant communication while you're in the wild. Whether you're camping near home or are far away on a family retreat, your family can benefit from having a set of walkie talkies on hand. Trust us – they offer so much more than just a way to ask where someone put the sleeping bags.
Walkie talkies from the Motorola Talkabout series offer families a chance to camp and communicate safer when they take along a set. These walkie talkies come packed with features that ensure that your family can always communicate clearly, including a range of up to 7 miles, 22 channels, iVOX hands-free communication features, a Quiet Talk interruption filter, and an emergency alert button.
Plus, your family also gets the benefit of a built-in flashlight in each radio, 11 weather channels (7 are NOAA) with alert features, and a long-lasting battery. When you're alone in the woods with your family, you can't afford not to have these kinds of devices along with you.
Make sure that your family is prepared for your next camping trip. Get your set of Motorola Talkabout radios today at TechWholesale.com.