Now that football season is in full swing, we thought it would be a good time to talk about ways that two-way radios can help bolster stadium security.
Whether you're running a small high school stadium or a large NFL operation, keeping your staff in contact with one another not only makes their job easier, it can keep everyone safer.
Your concessions staff, event staff, and (most importantly) security guards can all benefit from two-way radio communication on the site. Let's take a look at how two-way radios can enhance the job of your football security team.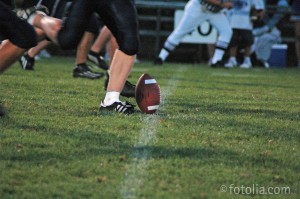 Your football security guards should be stationed at various points throughout the venue. Some may check attendees' tickets or credentials, while others search bags and other belongings. Still other security guards can patrol the venue to keep an eye on the goings on.
The right two-way radio system will keep your entire security staff connected throughout the game. This can ensure that everyone in attendance stays safe while they enjoy some gridiron glory.
Like we said, big or small—your football event should be a fun and safe event for everyone involved. Equip your security staff with two-way radios from the selection here at TechWholesale.com.