Posted by Joe Wood on Sep 22nd 2010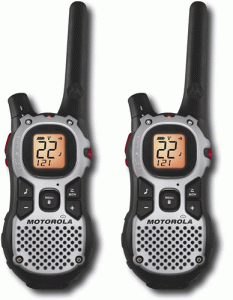 The Talkabout Series of two way radios is more than just a must-have for families that want to communicate at home. These walkie talkies are also perfect for toting along while traveling, biking, hiking, camping, fishing, or doing anything else your family loves to do together.
Built to be user friendly and able to withstand the tests of family use in some of the toughest environments, the Motorola Talkabout MJ270 series of radios lets your family communicate in a range that goes up to 7 miles with features that include:
22 channels with 121 privacy codes
27 hour battery life when you use 3 AA batteries
iVOX hands-free communication without having to use a headset
Built-in flashlight
11 weather channels with alert features
Mini-USB charging port
A bright backlit display
Advanced priority scan
These features are just a few of the ones that the Motorola Talkabout MJ270 offers. To see the full range of abilities – and to get a set for your family – be sure to check out the selection of Motorola family walkie talkies at TechWholesale.com.