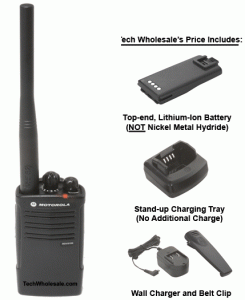 As we mentioned before, working on a farm requires a special kind of two way radio. At TechWholesale.com, we highly recommend the Motorola RDV5100 for outfitting your farm workers with the right tools to communicate.
The Motorola RDV5100 is an industrial two way radio that's built to perform under pressure. With 5 watts of power to cover up to 300,000 sq. ft. or 18 floors indoors and 10 channels to choose from, this business radio is one of the most powerful tools you can have to send messages or give directions while you're working on the harvest. These radios operate on 27 VHF business exclusive frequencies and offer advance voice activation for convenient hands free operation. Plus, they also come with features that are designed to maximize efficiency and productivity - two things you need when you're trying to get the job done. Order yours today from TechWholesale.com to save.
In addition to this durable radio, the Motorola RDV5100 order from TechWholesale.com comes with a high end lithium ion battery, charger, and belt clip so that it's even easier to use your radio to the fullest.
Need more than just two radios? Well, we can work with you on any size order. Just give us a call at 888-925-5982.