If you're one of many people who enjoy camping and being in the great outdoors, you're not alone. Camping is a relaxing and often fun excursion that is great for the whole family. Camping is a great way to relax and enjoy nature, as long as you follow safety guidelines to ensure your camping trip is as safe as possible. Below are a few tips to keep you safe while camping this season: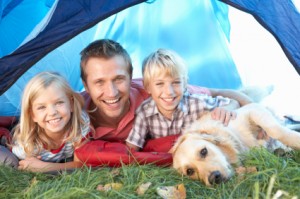 Be sure you're vaccinations such as a tetanus shot are up to date. Keeping up on vaccinations can ensures your protected from risks that you may encounter in the wilderness.
Always practice campfire safety! Choose a spot without overhanging trees and be sure to keep the fire contained with a metal ring. Keep water and a shovel near in the event of the fire spreading or becoming out of control.
Having a way to communicate in the event of an emergency is extremely crucial at ensuring the safety of your camping trip. Sometimes cellular phones aren't the most reliable communication tools, especially if in the deep woods. Two-way radios for campgrounds are a reliable tool that should be mandatory in your camping plans. Make sure your two-way radio has full batteries before leaving for your trip. Not only will a two-way radio for campgrounds keep you safe in the event of an emergency, but are also great for camping related activities such as hiking and fishing.
Be sure to pack a supply kit that includes first aid accessories, maps, compasses, flashlights, batters, blankets, medicines and essential goods that are meant to keep you safe. If you're bringing a two-way radio, be sure to bring a backup battery.
If you're planning a camping trip this season, follow these simple guidelines and enjoy a safe and relaxing trip!