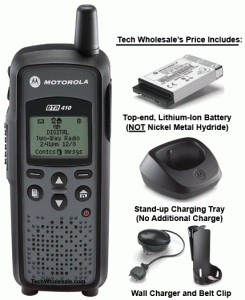 Please note: the most up-to-date version of the Motorola DTR series radio is the DTR700.
As one of the best digital two way radios available, the Motorola DTR410 is an ideal choice for anyone who needs a reliable communications device that can provide great range both indoors and out.
Featuring digital technology that enables crystal clear audio, The Motorola DTR410 can help you communicate up to 300,000 sq. ft. or 25 floors under the right conditions. Plus, you can feel secure knowing that it operates with a Frequency Hopping Spread Spectrum. Best of all, there is NO FCC license required to operate this digital two way radio.
This radio features a rugged, compact construction that's great for carrying on the go, a full-graphic back-lit display, fast charge times, long battery life, and an array of accessories that make using it even better. It's ability to communicate to both groups and individuals makes it an ideal fit for small businesses, theaters, event centers, restaurants, educational institutions, manufacturing facilities, health care organizations, and many more applications.
Get more info or order your Motorola DTR410 two way radio from TechWholesale.com.