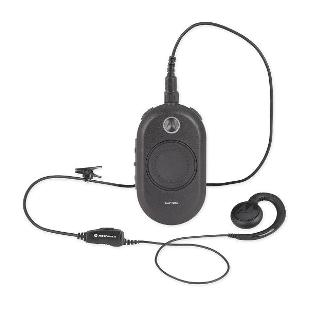 Streamline your image and your workflow with Motorola's sleek and professional, powerhouse walkie-talkie, the new CLP series two-way radio.
Always moving toward the future with their clients' industries in mind, Motorola asked restaurateurs, hospitality and retail professionals what they would want from their 'dream walkie-talkie'. Motorola's two-way radio designers listened and took notes in dialogue with managers and entry-level workers who use their walkie-talkies daily, to get down to the nitty gritty of what they really need from their on-site business radios. Being that restaurants, hotels and retail stores are all public-facing, customer service driven industries, they all said the same thing: we want style; easy, flexible wearability; and loud, clear audio in noisy environments.
Motorola's CLP series walkie-talkies deliver everything on your wish list.
The Motorola CLP two-way radio clips just about anywhere using its newly designed magnetic clip or the old school belt-clip holster. Dress codes and uniforms vary widely in retail, restaurants and hotels, so your CLP walkie-talkie makes it easy to wear your radio to fit the way you work. Clip it to a lapel, a dress shirt pocket or wear it at your waist, the CLP's sleek design attaches the radio securely to your person while making it look as if it's magically suspended right where you want it.
Motorola's trademark Push-to-talk button is large and textured, so you don't even have to take your eyes off of what you're doing to use it. Taking that a step further, CLP walkie-talkie features menus are voice driven with audio prompts that indicate radio status. If you do want to see it with your own eyes, Motorola makes that easy too. The color-coded status glow light, just above the PTT button, shows active channel, transmit and receive, scan and battery level in a mere glance. Managers will love how little training it takes to get new employees up to speed on the CLP walkie-talkie. Motorola knows restaurants, hotels, and retail stores are all fast-paced, high turnover industries. The simplicity of use built-in to the CLP series means, you save time and money on new employee orientation. Motorola's CLP radios enable your new team members to jump right in and get to work.
The Motorola CLP walkie-talkie combines sleek curves and usability with no protruding antennas to get in the way or get caught on things. There's no external speaker, so CLP walkie-talkies deliver the discretion and worry-free guest experience your business strives to provide. Who wants their business to sound like a crime scene? With the CLP series two-way radios all audio routes through the earpiece and mic that come with every CLP radio unit. Your customers are none the wiser as to what's going on behind the scenes to meet their needs. All they see and hear is the can-do, professional image your business intends to convey.
What you hear is the message your team members intend to communicate. Crowded hotel lobbies, busy restaurants, your store on Black Friday can get intense. Your walkie-talkie needs to deliver your messages amidst the din of your thriving business. Motorola's two-way radio sound engineers heard that message loud and clear when they sat down with professionals in the service industries. So, they want back to the lab and came back with a small, stylish polycarbonate housed radio that filters out background noise to transmit and receive crystal clear audio. The Motorola CLP's 16 adjustable volume settings let you choose how loud you like it. Adjustable audio through an earpiece speaker keeps your team connected and productive and your business communications private.
In addition to its good looks and superior sound quality, the CLP walkie-talkie's outer shell comes with anti-microbial protection that prohibits the growth of viruses and bacteria on the radio unit*. Not that you would want to, but your Motorola CLP two-way radios are built to take a beating. They're built to military specifications even (Mil Spec 810 C, D, E, F, G). Because sometimes the hectic pace of customer service work feels almost like a war-zone. Things drop and there is dirt.
Hard to break, but easy to program, CLP two-way radios offer two flexible ways to interact with your business radios. Voice assisted menus walk you through set-up and use via audio prompts. Or, if you prefer, Motorola provides free downloadable software that lets you configure your walkie-talkies to your liking (Customer Programming Software, CPS). Attach a cloning cable or use a multi-unit charger and your walkie-talkie settings duplicate across your whole fleet of radios. Programming made simple, you can DIY it or we at Techwholesale welcome your two-way radio configuration questions. We're always happy to help!
So let's talk tech! Motorola's CLP two-way radios cover a lot of ground -- up to 100,000 sq. ft of it actually. When you need more, or your business' terrain contains dead spots, you can easily add in two-way radio repeaters to increase your coverage area. CLP walkie-talkies operate on 99 UHF business exclusive frequencies. 219 interference elimination codes work to provide confidential and chatter free communication via a diverse assortment of PL and DPL codes (39 standard + 6 custom PL codes; 84 standard + 84 inverted + 6 custom DPL codes).
Some Motorola CLP series walkie-talkies allow users to monitor radio activity using a scan feature (applies to multi-channel two-way radio units). Conversations happen faster and are more efficient, enabling managers and employees to increase question and request response time. Faster responses mean your customers leave your business smiling and satisfied with plans to return soon.
All Motorola CLP radios put out up to 1-Watt of power with selectable options for high and low settings available via your free customer programming software. Lower power usage means longer battery duration per shift. The Motorola CLP series walkie-talkies come standard with Lithium-ion battery smart technology for 9-12 hours on a single charge. If your team works longer hours, you might want to consider the High Capacity battery for up to 14 hours of two-way radio communication per charge. Naturally, we'll send a stand-up, single unit charger with each walkie-talkie you purchase. An added bonus to the multi-unit charger, besides cloning capability, is the organizational edge that comes with charging your walkie-talkies all in one spot. A multi-unit charger keeps 'em from going walkabout and includes a little back pocket to store that unit's earpiece/mic, so no one's hunting around for their walkie-talkie or earpiece and mic. Your accountant will stop giving you the evil eye when you're not having to replace lost walkie-talkies all the time.
Techwholesale.com offers two models to help you improve your business' bottom line by boosting your reputation for fast and friendly customer service. The CLP1010 and the CLP1040. There's really only one difference between these two two-way radio models. The CLP 1010 is a single channel walkie-talkie; whereas, the CLP 1040 utilizes 4 channels. So if you run a small crew and don't have a need to divide out your communications into different people or groups on separate channels, you'll save money buying the CLP 1010, as it's priced a bit lower than the CLP1040.
If you run a larger crew or your business would benefit from the fewer distractions native to separate channel communication for people or groups with different tasks, then you'll want more channels than the CLP1010's single channel. With the 4 channels you get from the CLP 1040, you have the option to allocate different channels to different user groups. For instance, if you run a restaurant, you can put your kitchen on channel 1, your wait staff on channel 2, your seaters on channel 3 and have your manager answer questions and concerns on channel 4. In this scenario, the kitchen doesn't have to stop to filter out wait staff conversations that don't apply to them, but the wait staff can always call them on their channel to tell them to hold the mayo. Different strokes for different folks.
Motorola's CLP series two-way radios are a boon to every business. Their sleek style, flexible wearability and 16 level adjustable, audio technology - literally - were made for your business. Designed in tandem with professionals from all corners of the retail, restaurant and hospitality industries, Motorola delivers the professional image and high performance your business deserves.