When you're working in the medical field, it's important to ensure that your office operates at the highest efficiency level possible. How can you make sure that technicians and other staff members have a simple and quick way to know when patients check in, when a procedure is finished, or when someone else needs to be called in to a particular area of the office? Here at Tech Wholesale, we know exactly what the solution should be.
That's why we specialize in two-way radios for businesses—and medical offices are some of the best candidates for this efficient technology.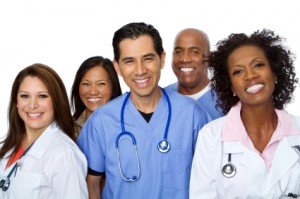 The two-way radios for medical offices here at Tech Wholesale are designed with patients in mind. Now, that's not to say that we know how to treat any medical issues—far from it, in fact. What we're saying is that we know that the right people need to be in the right place at the right time to ensure that proper medical care is given to those that need it. With two-way radios and walkie talkies for medical offices, you'll be able to ensure that everyone is connected and on the same page.
When you choose your Motorola two-way radios from Tech Wholesale, you'll be able to appreciate the privacy codes that can provide uninterrupted and confidential conversations. This is especially important when you're dealing with sensitive information in a medical office.
See how two-way radios from Tech Wholesale can work for your office!