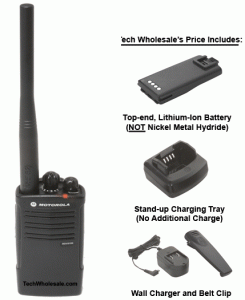 Ideal for use in a variety of heavy duty, industrial applications, the Motorola RDX radio is perfect for sending messages with just the push of a button. This radio offers 5 watts of power to cover up to 300,000 sq. ft. or 18 floors indoors, 10 channels, 27 VHF business exclusive frequencies, 122 privacy codes, Advance Voice Activation for hands-free use, and Customer Programming Software to allow users to perform programming functions via PC. Definitely a radio that packs a punch.
Here's what you'll get when you order a Motorola RDX radio from TechWholesale.com: • One Motorola RDX Series Radio RDV5100 • Ultra-Hi capacity Li-Ion battery (up-to 18.5 hours per charge) • Belt Clip • Removable antenna • Charging adapter • Standard drop-in charging tray • User guide • Safety sheet • One year limited warranty
Once you have your radio, you can use it to maximize productivity, enhance security, or keep your operations on schedule. It's up to you. Order yours today at TechWholesale.com and save.