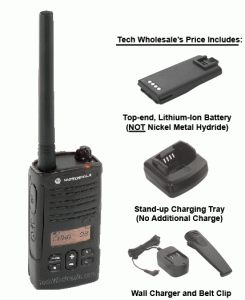 If you want a radio that has:
- Up to 2 watts of power -Up to 8 channels with aliasing -iVOX capabilities (hands-free use) -3 voice-inversion scramble settings -A durable yet portable construction -Fixed MURS frequencies -Great battery life
Then look no further than the Motorola RDM2080d. This two way radio is perfect for use in schools, theaters, health care facilities, or other applications where security and ease of use is a main priority.
This simple and efficient two way radio is designed to minimize eavesdropping while operating at the best possible performance. It doesn't require an FCC license for use, which makes it ideal for any small to medium-sized organization that needs something to enable communications without having to do so on a mass scale. To put it simply, this is a great radio for any small business with the need to communicate quickly and efficiently with other staff members.
Order your Motorola RDM2080d today at TechWholesale.com.