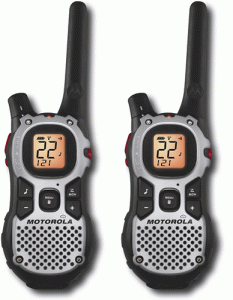 When it comes to buying walkie-talkies, there are a few factors to take into consideration. Walkie-talkie and two-way radio communication have come a long way since the inception of the walkie-talkie during World War II. The compact nature of today's walkie-talkies, and the simple way of using them make them a perfect communication tool for a variety of reasons.
A walkie-talkie is an effective tool during an emergency, or to keep in communication with somebody without the service fee of a cellular phone. With so many options for walkie-talkies on the market today, it can be a daunting task trying to choose the one for you.
Try to take the following into consideration when making your purchase:
• Assess the purpose that the walkie-talkies will be used for.
• Research the different and most modern technologies out there. Many people may praise analog devices, but a lot of people are better off with a modern digital device.
• Don't buy a device that has features you will never use. Keep it simple, and you may end up not overpaying for a device.
• The distance the walkie-talkie will cover. If you plan on using the walkie-talkie within a 2-mile radius a non-licensed walkie-talkie is fine. Any distance larger than 5 miles will require a licensed walkie-talkie.
• Gather reviews on walkie-talkies to ensure you're buying a highly rated model.
• Consider the type of power supply you want. If you have a ready power supply around at all times, a rechargeable model is perfect, however, applications away from a power supply may be better off with a changeable battery walkie-talkie.
There are many ways to choose a walkie-talkie that's right for you. We can always help find which radio is right for you with our two-way radio survey as well.