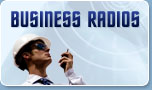 If you've taken a look at the selection at TechWholesale.com, you already know that we offer one of the net's largest and most comprehensive showcase of Motorola two way radios. You know that our prices are much more affordable than other retailers. You know that we accommodate the needs of any order, whether it's two radios or 200 radios. You also know that we work with you to ensure that you find the right radio for your needs, no matter what they may be.
Well, now, you can get an even sweeter deal when you shop the selection of Motorola business two way radios at TechWholesale.com. With your order of a two way business radio, Motorola will include a FREE stand-up charger and high-end lithium-ion battery. Seriously. Free. Included with your order. Now that's something you can really appreciation.
In addition, on any Motorola business radio purchase, we also offer FREE shipping, so you can save even more on favorites like the Motorola RDX series, the CLS, the DTR, or the Motorola XTN radio line. Finally - there's a better way to shop for Motorola two way business radios.
Get yours today, complete with FREE shipping, FREE stand-up charger, and FREE high end lithium ion battery from TechWholesale.com.