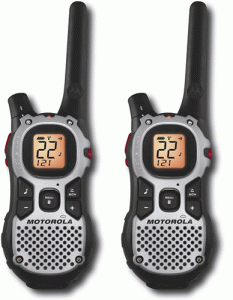 If you've been looking for a Family Radio Service (FRS) or General Mobile Radio Service (GMRS) radio for use while you're traveling, hiking, or just at home, then you've come to the right place. TechWholesale.com offers the Motorola Talkabout MJ270 series that's simply perfect for use within your family, whether you're at home or out on the road.
Able to serve a range up to 7 miles, the Motorola Talkabout MJ270 series uses both FRS and GMRS frequencies to provide secure channel combinations as well as awesome communications power. These radios also include long battery life, hands-free communication capabilities, Quiet Talk interruption filters, emergency alert buttons, built-in flashlight, mini-USB charging port, a convenient backlit display, and even access to 11 weather channels (including 7 NOAA) with alert feature. To put it simply - these radios do it all.
Make sure that your family has the best set of walkie talkies available by getting your set of Motorola Talkabout radios
today at TechWholesale.com.